SkinPro Esthetics
Services Offered
Skin Pro Esthetics »
We are an inclusive and friendly space with state-of-the-art technology. We're committed to helping clients feel more confident in their own skin. We make sure to offer products and services that are safe for all hair and skin types.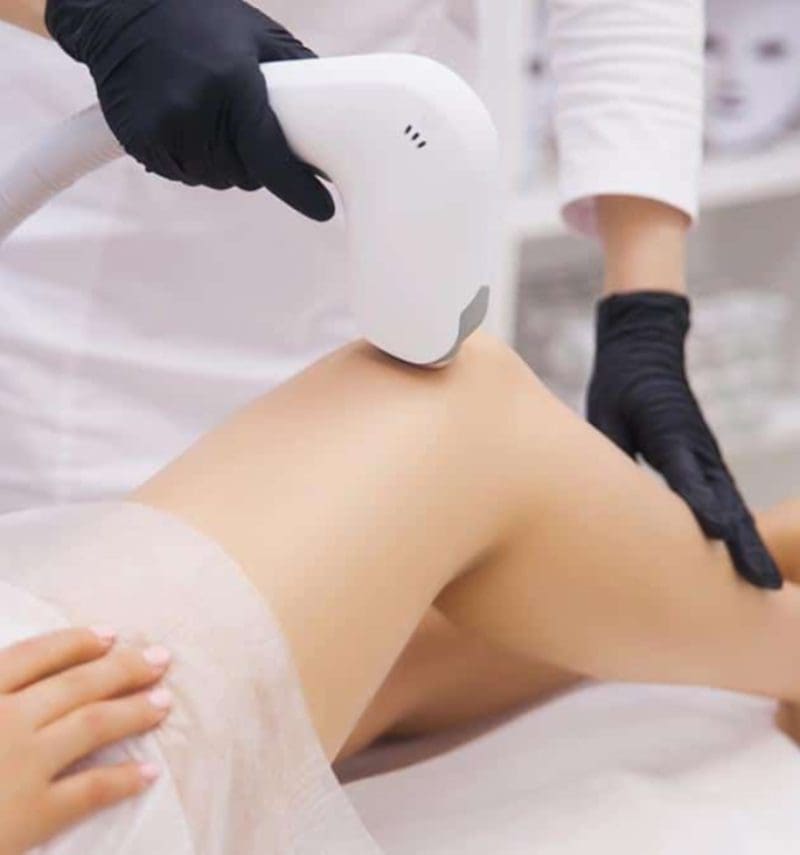 Laser Hair Removal
Permanently reduce unwanted hair with targeted energy that destroys the hair at its roots.
55% of men have unwanted body hair, and 87% of women have unwanted body hair. The effects this has on our ability to be joyful in many settings, fashion styles, and activities are profoundly saddening and could have residual effects on happiness and confidence.
By treating unwanted hair, we are not causing any ill physiological effects. In fact, we are able to safely and effectively target the hair without destroying the surrounding tissue. In some cases, after as few as three to four treatments, we begin to see significant to permanent hair reduction.
Skin Treatments
20% of Canadians have acne, two million have rosacea, 67% have confidence issues due to a skin condition, and 90% of skin cancers that are self-examined are cured. Treating the skin with IPL photo rejuvenation, shedding damaged cells, using SPF, and avoiding the sun at peak times are all preventative factors.
At SkinPro, we do not diagnose your condition; we treat what we see when it is safe and advise our clients to see a dermatologist or physician as required. We make use of a multi-faceted approach to skincare; your treatment plan is customized to you. We use lasers, IPL, microdermabrasion, chemical peels, radio frequency, lymphatic drainage, massage, and other advanced techniques and ingredients to help you get the best version of your skin.
SkinPro Esthetics combines the spa extravagance of Eminence Organic Skin Care and the science behind the skin's cellular functions of Eltraderm Skin Care to create the best, custom, treatment plan for your skin.
After all, great skin never goes out of style!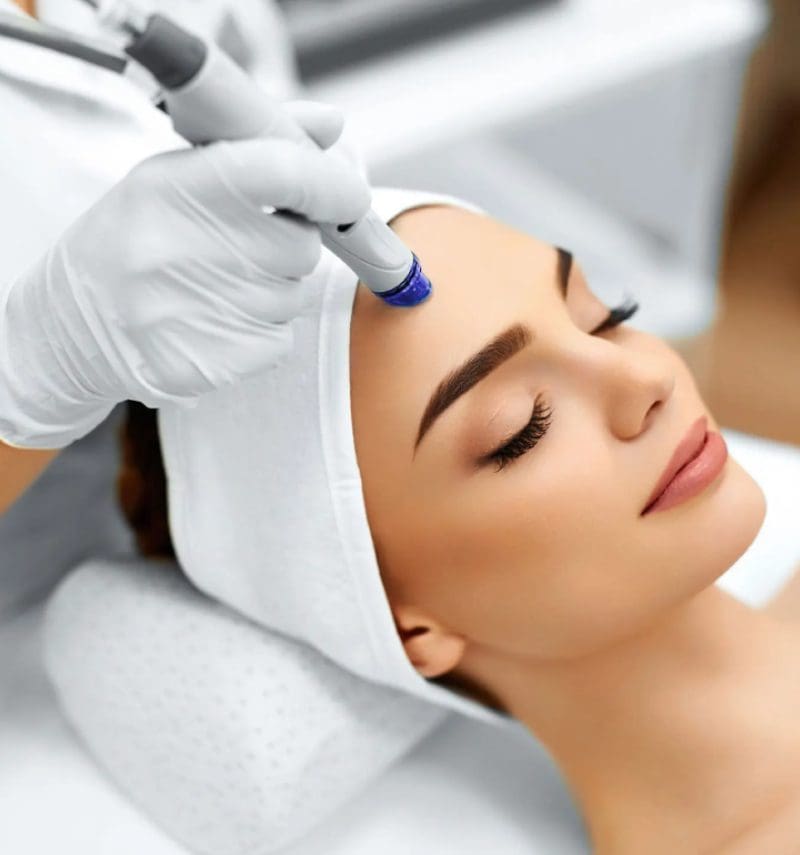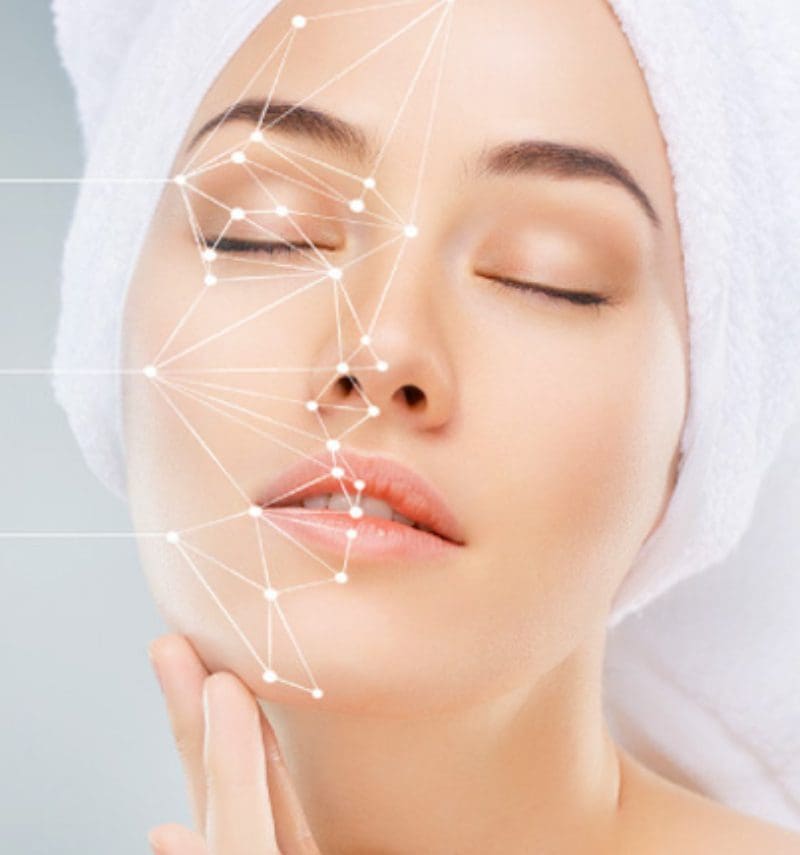 ThermoClear
The benefits of ThermoClear are instant and long- lasting. Benefits include:
No downtime / minimal scabbing
Treatment applied only on the areas of the imperfection
Quick treatment lasting only a few seconds
Minimal client discomfort
Easily added onto another service
Only affects epidermis layer
Effectively treat skin tags, angiomas, capillaries, milia, sebaceous hyperplasia, seborrheic keratosis, comedones, blemishes, and stubborn unwanted hairs
Safe for all skin types
Stellar M22
The future of skin treatments starts now! With the advanced technology of the Stellar M22 IPL Device by Lumenis we bring you the ability to treat over 30 clinical indications.
Inspired by the brightest constellation in the universe the Stellar M22 gives us IPL, Nd:Yag, Q-Switch, ResurFX and with that is the platform we need to safely treat vascularity, pigmentation, unwanted hair, acne, veins, dark tattoo inks, textural issues, signs of aging including sun damage and collagen degradation.
Book a FREE consultation to start your journey with SkinPro & Stellar M22 now!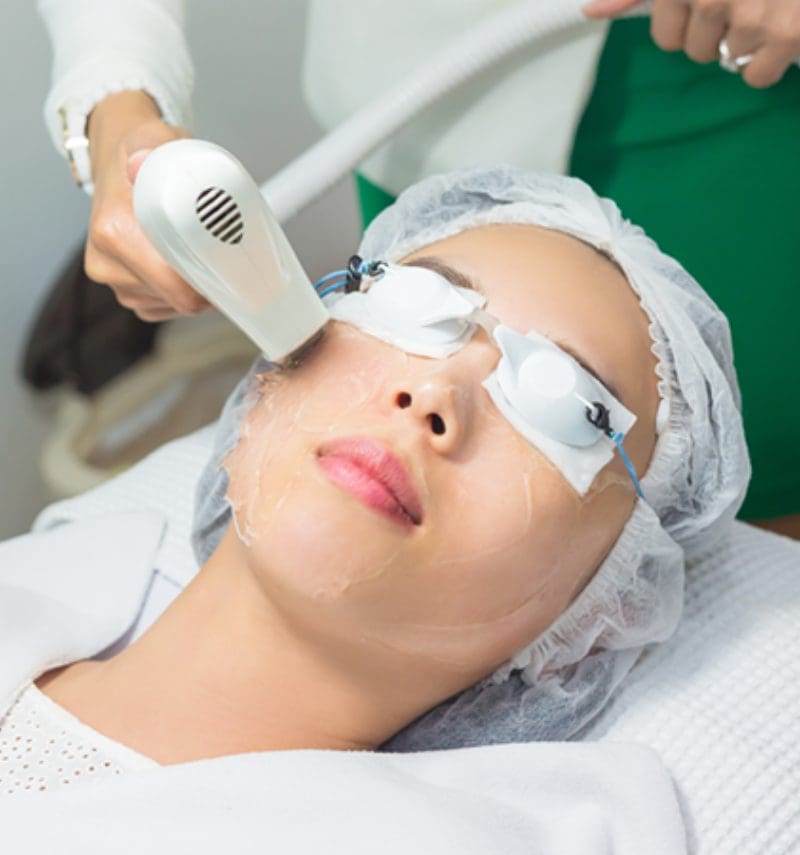 How Vacuum-Assisted Technology Works
The vacuum gently draws skin into the handpiece, stretching it thin and drawing the target closer to the energy source. Energy is applied to the target, causing melanocytes to spread apart and blood flow to be constricted. The target is damaged, and the skin is released.
Advantages of High-Speed Vacuum Assisted Technology
Efficacy: A reduction in competing chromophores enables the delivery of laser energy more efficiently.
Safety: Less energy is absorbed by the epidermis and lower fluence is required since the target is closer to the energy source.
Decreased pain: The unique vacuum mechanism activates tactile and pressure skin receptors to inhibit the transmission of pain sensation.
*Ibrahimi OA, Kilmer SL. Long-term clinical evaluation of an 800-nm long-pulsed diode laser with a large spot size and vacuum-assisted suction for hair removal. Dermatol Surg. 2012
How ChillTip TM Works
The skin is cooled before and during treatment. The skin is compressed. Then a laser beam is applied to the skin, and the target is damaged.
Advantages of ChillTipTM Technology
Safety: Superior epidermal protection is achieved through ChillTip contact cooling
Patient comfort**: By continuously cooling the skin, pain and discomfort are significantly reduced.
Efficacy: Compression of the skin rotates follicles closer to the surface, blenches blood vessels and reduces competing chromophores. High fluence enables the treatment of areas requiring precision and thin, light hair.
**Xia Y, Moore R, Cho S, and Ross EV. Evaluation of the vacuum-assisted handpiece compared with the sapphire-cooled handpiece of the 800-nm diode laser system for the use of hair removal and reduction. J Cosmet Laser Ther. 2010; 12: 264-268.
Pre and Post Treatment Care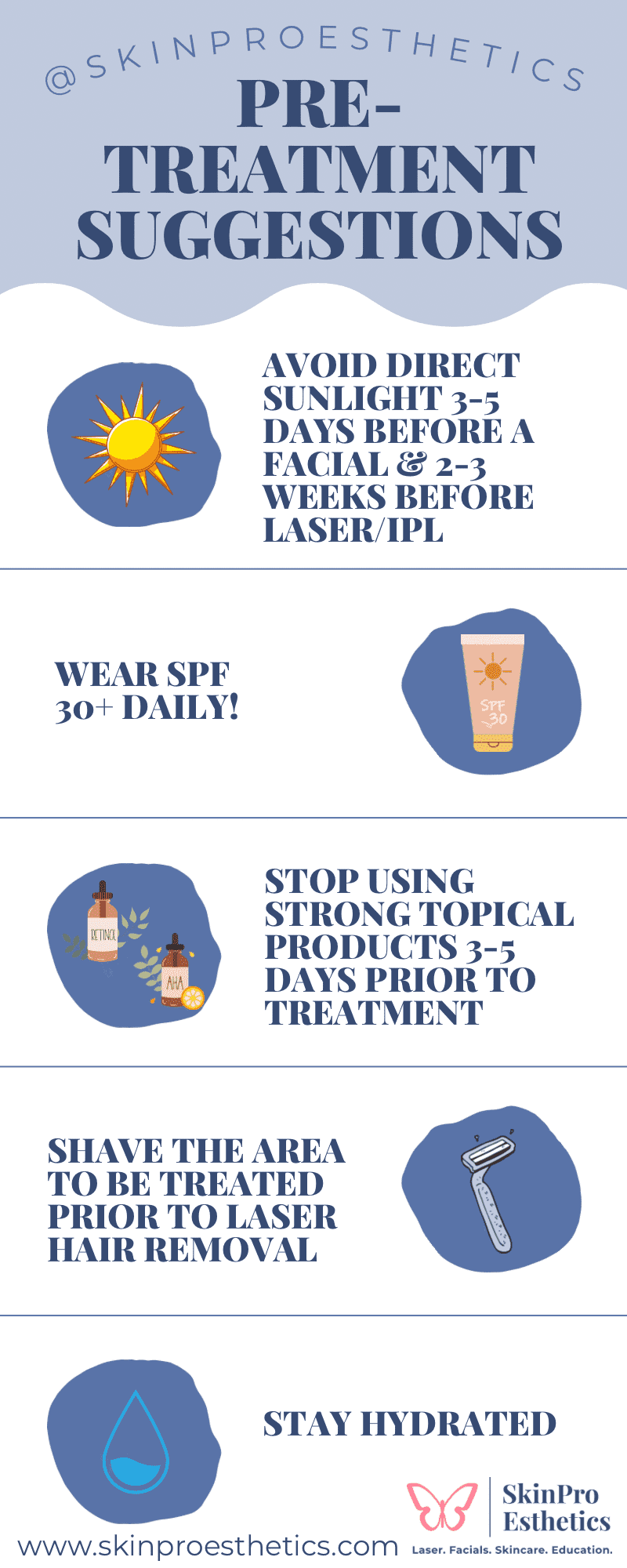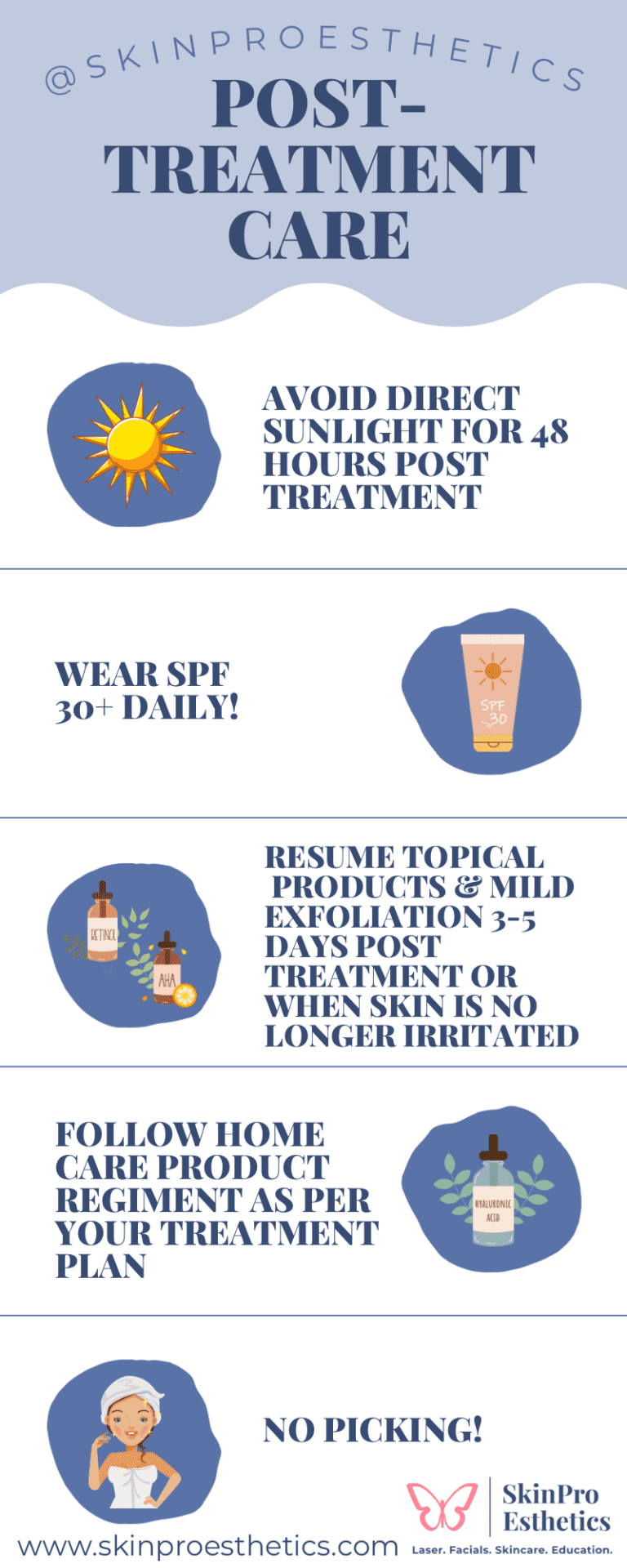 Laser Hair Removal

SkinPro uses diode technology to safely provide permanent laser hair reduction for all hair/skin types. Effective laser hair removal is achieved when there is most contrast between the hair and skin. Laser Hair Removal is achieved by applying light energy to the skin in a directed manner to target pigment in the hair follicle. Light energy is converted to heat and effectively destroys the target leaving the surrounding tissued intact. A series of treatments with annual maintenance is expected for successful laser hair removal. For full instructions, precautions, and treatment plans please contact us to book your free consultation.
Area
Per Session
Package of 3 Save 10%
Buy 6 for the Price of 5
Lip / Chin / Ears / Mid Brow
1 Area
$49
$132.30
$245
2 Areas
$98
$264.60
$490
3 Areas
$147
$396.90
$735
4 Areas
$196
$529.20
$980
Sideburns / Front or Back of Neck / Forehead / Beard Shaping
Each
$79
$213.30
$395
Full Face or Beard
$179
$483.30
$895
Full Face + Neck
$249
$672.30
$1245
Areola
$59
$159.30
$295
Underarms
$99
$267.30
$495
Half Arms
$139
$375.30
$695
Full Arms
$229
$618.30
$1,145
Toes + Feet / Hands + Fingers / Bikini
Each
$59
$159.30
$295
Extended Bikini / Navel Strip / Shoulders
Each
$139
$375.30
$695
Brazilian / Buttock / Upper or Lower Half Legs / Shoulder + Neck/ Half Back / Chest / Stomach / Flanks
Each
$179
$483.30
$895
Full Legs or Back
$299
$807.30
$1,495
Full Body
$649
$1,752.30
$3,245

IPL Skin Rejuvenation

SkinPro uses Stellar M22 IPL technology to provide targeted, effective, skin rejuvenation. This treatment is ideal for treating pigmentation spots, vascularity, textural issues, skin laxity, complexion clarity, mild to moderate inflammatory acne, rosacea, fine lines, and more. IPL is commonly used to treat skin on the face, hands, and body. It is best to plan for this treatment at least 2 weeks prior to a special event. For full instructions, precautions, and treatment plans, please contact us to book your free consultation.
Area
Per Session
Package of 3 Save 10%
Buy 6 for the Price of 5
Full Face
$279
$753.30
$1,395
Cheeks + Nose
$149
$402.30
$745
Full Face + Neck
$339
$915.30
$1,695
Neck + Décolleté
$359
$969.30
$1,795
Full Face + Neck + Décolleté
$399
$1,077.30
$1,995
Hands
$79
$213.30
$395
Upper Back
$299
$807.30
$1,495
Shoulders
$179
$483.30
$895
Arms
$229
$618.30
$1,145

Laser Skin Rejuvenation

Using ND:Yag Laser energy to build a deep heat in the tissue we are able to stimulate the production of collagen, elastin, and glycosaminoglycans in the skin. This gives an overall improvement to skin texture, tone and clarity. Tighten and revitalize the skin with these zero down time treatment options.

For full instructions, precautions, and treatment plans please contact us to book your free consultation.

Area
Per Session
Package of 3 Save 10%
Buy 6 for the Price of 5
Nd:Yag Laser Facial
$229
$618.30
$1,145
Face + Neck
$299
$807.30
$1,495
Neck
$129
$348.30
$645
Eye
$99
$267.30
$495

ResurFX

Looking to refresh your complexion? Look no further than ResurFX™ by Lumenis®, a state-of-the-art non-ablative, fractional laser resurfacing technology. ResurFX™ stimulates the production of collagen in the deep layers of the skin to address issues including fine lines and wrinkles, texture and tone, discolouration, scarring, and overall skin appearance. This unique technology enables SkinPro to offer Sherwood Park & Edmonton Clients a safe and comfortable treatment to achieve healthier, more radiant skin with minimal downtime.
ResurFX™ helps with:
brown spots
pores
skin texture & tone
sun damage
wrinkles & fine lines
How it works:
ResurFX™ is non-ablative, meaning it does not open the skin, and fractional, which refers to a process of breaking up a laser beam into hundreds of 'micro' beams. The skin is completely treated through a fractional approach, leaving surrounding tissues virtually unharmed to expedite healing and maximize safety. What's more, only one pass over the skin is required to produce effective results, this reduces treatment time. ResurFX™ works to stimulate the production of new collagen and remove sun damage, resulting in more even and youthful-looking skin. While some redness, swelling, and minor irritation (like the effects of a sunburn) may be experienced immediately following treatment, these effects typically subside within a few days, allowing for a short and relatively comfortable recovery. Most patients can resume their daily activities the very same day. For full instructions, precautions, and treatment plans please contact us to book your free consultation.
Area
Per Session
Package of 3 Save 10%
Buy 6 for the Price of 5
ResurFX Facial
$400
$1,080.00
$2,000.00
ResurFX Scar or Stretch Mark Treatment
2″
$110
$297.00
$550
4″
$185
$499.50
$925
6″
$250
$675.00
$1,250
ResurFX Neck
$200
$540.00
$1,000
ResurFX Decolette
$400
$1,080.00
$2,000
ResurFX Full Face + Neck + Decolette
$875
$2,362.50
$4,375
PhotoFrac IPL + ResurFX
$559
$1,509.30
$2,795

Laser Tattoo Removal

Using a Q-Switch Nd:Yag Laser we can effectively lift dark tattoo inks with blue and black pigment. When you direct the 1064 wavelength of light to a tattoo, the light will penetrate the skin and is absorbed by the tattoo ink. The light waves convert to heat and break down the tattoo ink into particles, which are slowly eliminated via our body systems. It is a long process, so you can not achieve the goal instantly. It requires several sessions, particularly when a tattoo is large. The color of the tattoo ink also affects the progress. We recommend a consultation, the usage of topical numbing (available in store or online), and regular sessions for best results. For full instructions, precautions, and treatment plans please contact us to book your free consultation.
Area
Per Session
Package of 3 Save 10%
Buy 6 for the Price of 5
2 inch
$89
$240.30
$445
4 inch
$129
$348.30
$645
6 inch
$159
$429.30
$795
8inch +
$189
$510.30
$945

Laser Vein Treatment

We provide safe, non-invasive treatment to help you treat spider veins, leg veins, facial veins, broken capillaries and even managing rosacea,
SkinPro's Nd:YAG Vein Reduction treatment will be tailored to target specific concerns, ranging from thicker yarn like veins to fine thread-like capillaries and everything in between. You will see noticeable results with no downtime! 3-4 treatments are needed for optimal results. Results can be seen 1 week after treatment. You will have longer-lasting results by using a physical block sunscreen, avoiding sun exposure and committing to a treatment plan. For full instructions, precautions, and treatment plans please contact us to book your free consultation.
Area
Per Session
Package of 3 Save 10%
Buy 6 for the Price of 5
Spot
$50
$135.00
$250
Nose
$99
$267.30
$495
10 min
$125
$337.50
$625
25 min
$225
$607.50
$1,125

ThermoClear Treatment

SkinPro uses ThermoClear, a topical application of Radio Frequency energy for the immediate, safe, effective, treatment of many skin imperfections. Treat skin tags, angiomas, capillaries, lentigos, milia, sebaceous hyperplasia, and more. No topical numbing is required, minimal treatment time, no down time.
Duration
Per Session
Package of 3 Save 10%
Buy 6 for the Price of 5
10 min, 1 to 3 spots
$50
$135.00
$250
15 min, up to 10 spots
$150
$405.00
$750
30 min, up to 20 spots
$300
$810.00
$1,500

Facials

SkinPro offers deluxe, custom, facials in a cozy spa atmosphere, using Eminence Organic Skincare, Eltraderm Skin Care, or Nancy K. Brown Aesthetics INC. SkinPro Facials are simply the best! Book with us now, you will not be disappointed.
Type of Facial
Per Session
Package of 3 Save 10%
Buy 6 for the Price of 5
MicroEnzyme Deep Cleanse
$69
$180.30
$345
Deluxe Custom Facial
$89
$240.30
$445
Ultra Deluxe Custom Facial
$139
$375.30
$695
HydrationMicroPeel LED Facial
$179
$483.30
$895

Microdermabrasion

SkinPro loves the exfoliating & refining results of a thorough microdermabrasion. Lymphatic drainage reduces puffiness, stimulates cellular detoxification and improves the overall complexion. Microdermabrasion exfoliates the surface of the skin, minimizes fine lines, wrinkles, pores, and eliminates congestion. Microdermabrasion is safe on all skin types except active acne and highly vascular skin conditions such as rosacea. Ask us about our treatment plans for these skin challenges. Try a microdermabrasion prior to IPL skin rejuvenation for a deeper treatment.
Area
Per Session
Package of 3 Save 10%
Buy 6 for the Price of 5
Full Face
$85
$229.50
$425
Face/Neck
$125
$337.50
$625
Back
$165
$445.50
$825
MicroDerm Body Glow
$250
$675.00
$1,250
Add On
$50

Exfoliating Peels

We utilize superlative quality AHA, BHA, and Enzymes to provide safe and effective peels for all skin types and skin conditions. Peels are extremely effective in the treatment of oily, acneic, and congested skin, Enzyme peels are a safe choice of exfoliation for sensitive skin, expectant mothers, and are ideal for regular use. We recommend a series of peels in the fall to rid the skin of sun damage, replenish hydration levels, and improve skin tone for an overall brighter complexion.
Area
Per Session
Package of 3 Save 10%
Buy 6 for the Price of 5
Full Face AHA
$70
$189.00
$350
Full Face Pro Peel
$145
$391.50
$725
Chest AHA
$90
$243.00
$450
Back AHA
$135
$364.50
$675
Add On
$50+

Dermaplaning

SkinPro recommends a Dermaplaning facial with a hydrogelly mask before your next special event, photoshoot, or vacation. Your Skin will be revitalized, exfoliated, and free of vellus hair (peach fuzz) on the surface of the skin. Dermaplaning is not ideal for active acne, extremely sensitive, or broken skin.
Area
Per Session
Package of 3 Save 10%
Buy 6 for the Price of 5
Full Face
$85
$229.50
$425
Add On
$50